BIG DIAMETER 450mm HDPE PIPE PLASTIC MACHINE / PE PIPE PRODUCTION LINE / PE PIPE PLASTIC EXTRUDER
160-450mm PE Pipe Extrusion machine is mainly used for producing gas supplying pipe, water supplying pipe, cable protection pipe etc. The pipe has some excellent features such as low temperature impact resistance, reliable connection, good stress crack resistance, good chemical resistance, good wear resistance, long using life, etc. our extrusion line is designed with high efficiency extruder and equipped with reducer which is high speed and low noise, Gravimetric dosing unit and ultrasonic thickness indicator can be assembled according to customer's demand to ascend the precise of the pipes . Turn key solution can be provided, like laser printer crusher, shredder, water chiller, air compressor etc. to achieve high-grade and automatic tube production.
Process Flow:
Raw material+ Master Batches → Mixing → Vacuum Feeder →Plastic Hopper Drier→ Single Screw Extruder →Co-extruder for color string & Multi Layers → Mould → Vacuum Calibration Tank → Spray Cooling Water Tank → Haul-off → No Dust Cutter →Stacker → Final Product Inspecting &Packing
Application of HDPE pipes
1. Municipal water supply, gas supply and agriculture etc.
2. Commercial & Residential water supply
3. Industrial liquids transportation
4. Sewage treatment
5. Food and chemical industry
7. Replacement of cement pipes and steel pipes
8. Argillaceous silt, mud transportation
9. Garden green pipe networks
Technical Parameters
| | | | | |
| --- | --- | --- | --- | --- |
| Item | SJDRM75 | SJDRM125 | SJDRM250 | SJDRM630 |
| Max Dia. Of pipe(mm) | 75 | 125 | 250 | 630 |
| Main machine | SJ65/30 | SJ75/30 | SJ90/30 | SJ120/30 |
| Motor power(kw) | 60 | 75 | 160 | 260 |
| Motor type | Direct current model | Direct current model | Direct current model | Direct current model |
| Max. capacity(kg/h) | 160 | 260 | 400 | 900 |
| Traction speed(m/min) | 0.5DRM8 | 0.3DRM4 | 0.2DRM2 | 0.1DRM1 |
| Max. traction(N) | 10000 | 15000 | 30000 | 40000 |
| Cutting type | Disc type cutting | Disc type cutting | Planet cutting | Planet cutting |
| length(mm) | 22000 | 34000 | 44000 | 58000 |
Main Composition
| | |
| --- | --- |
| Item | Quantity |
| SJ-XXX Single Screw Extruder | one set |
| Die And Mould | one set |
| Vacuum Calibration Device | one set |
| Spray Cooling Tanks | one set |
| Tractor | one set |
| Cutting Device | one set |
| Stacker | one set |
| Optional auxiliary machines for your choice | |
| Mixer | One set |
| Crusher | One set |
1. SJ120/33 or SJ90/38 Single Screw Extruder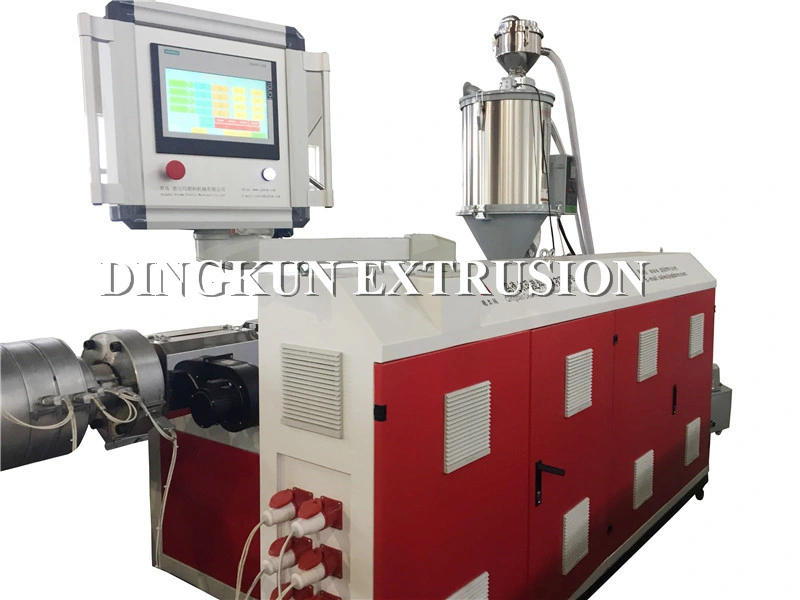 Model:HSJ90/38
L/D: 38:1
Capacity:800kgs/h
Motor power:250kW
Output/Energy: 4.2kg/kW
2. Die Head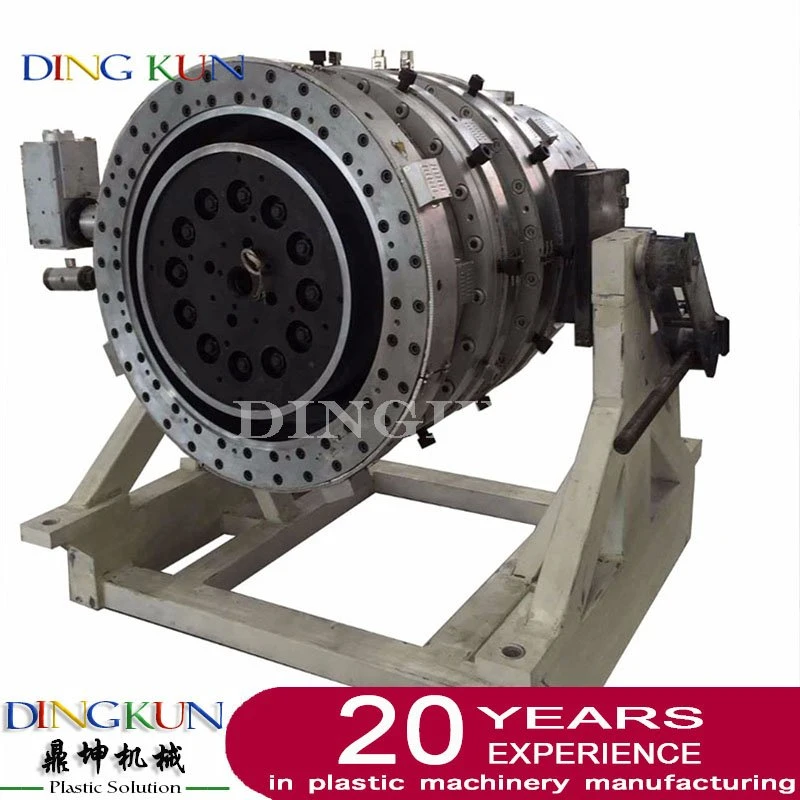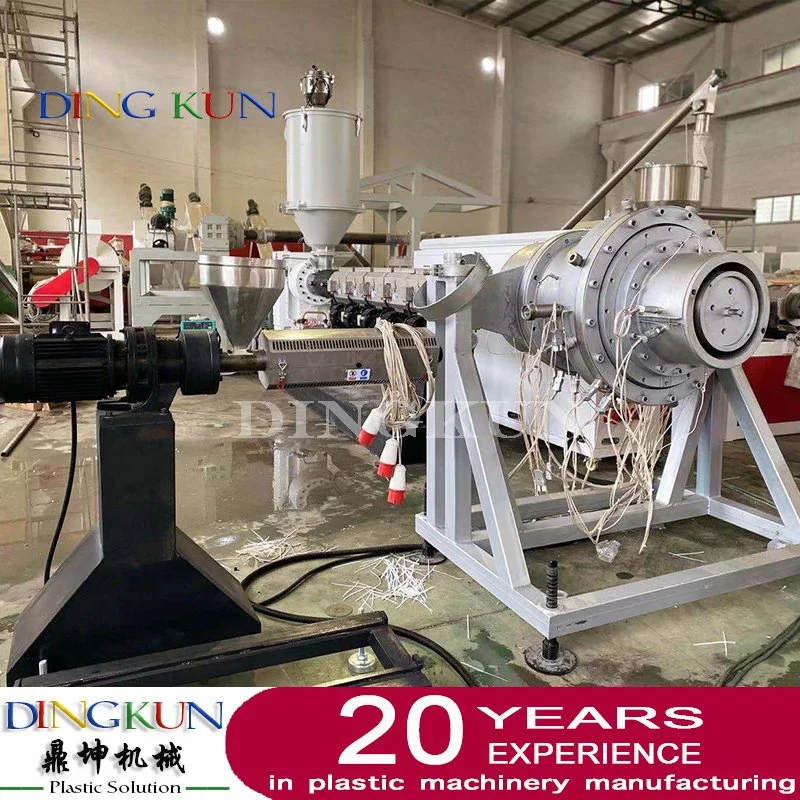 Materials: 40Cr Steel
Structure: Spiral or Basket
Single cavity or double cavity design
Single layer or co-extrusion multi-layers design
3. VACUUM CALIBRATION TANK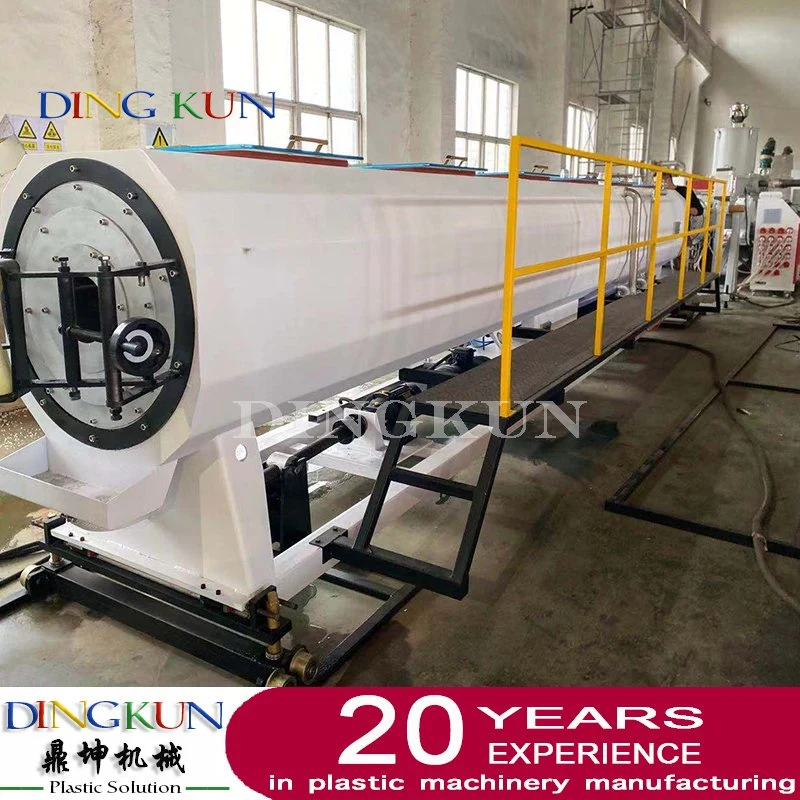 Tank materials: 4mm 304 S. S.Materials
Water temperature and level controlling technology;
High pressure and stable water jet.
Pressure protection design
4. COOLING TANK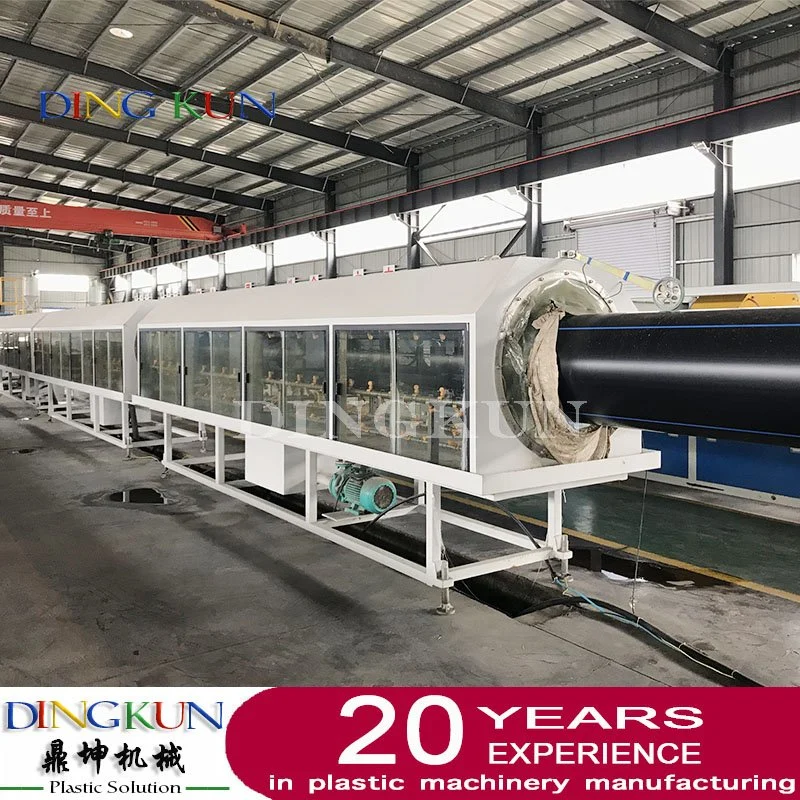 5. Tractor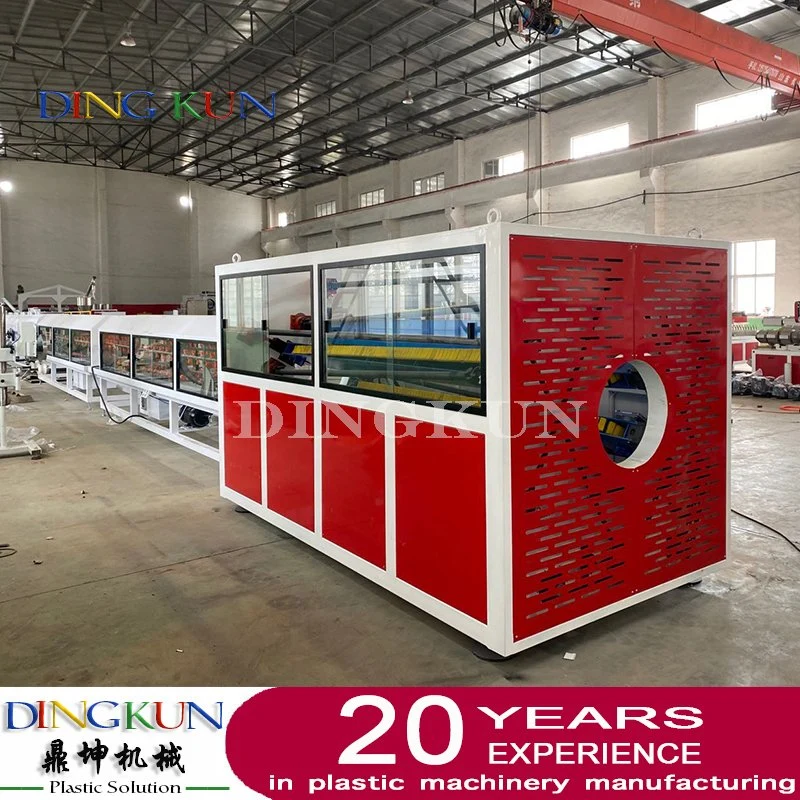 Haul-Off : Frequency Motor/servo motor driving
High friction fact and anti-wear out silicon rubber Pads
Metering counter

Cutter: Universal or Cast Aluminium fixture unit
High Quality Alloy Blades
Smooth Cutting surface;
Servo motor Sync hronization control
5. STACKER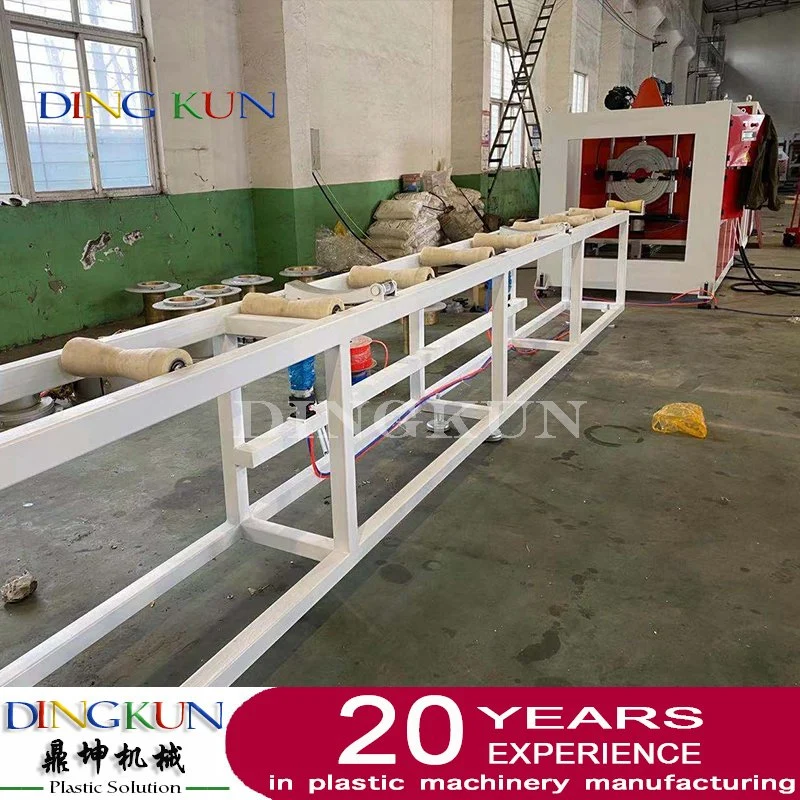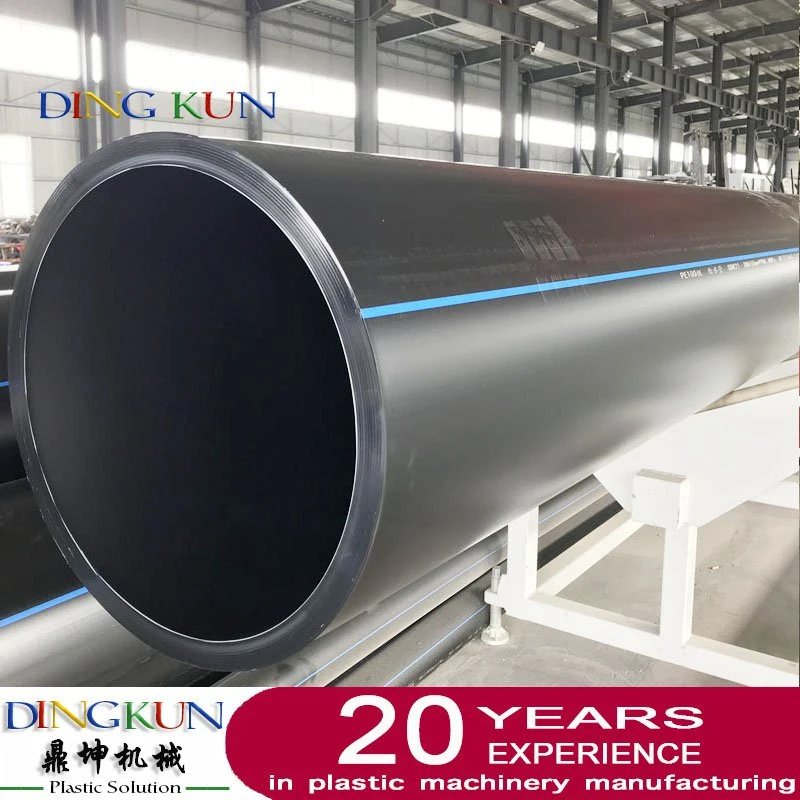 Advantages (PE PIPE MACHINE/ PE PIPE EXTRUSION MACHINE)
1. 8m/min of maximum lineal extrusion speed, high capacity and low power consumption, and achieved multi-layers co extrusion with 1-5 layers.
2. The copper bush is more wear-resisting and prevent material leakage which can guarantee a stable running of extruder.
3. Material feed via spiral groove, efficient transmission and can effectively reduce back-pressure on extruder.
4. Unique design (barrier, shearing and mixing zone) guarantees a uniformed plasticizing effect, and can reduce the pressure on the screw which guarantees a high speed and stable output capacity.
5. High torque gear box has a smart figuration, compact construction, low noise, high carrying capacity, high transmission efficiency can assure long-time trouble-free operation;
6. Equipped with Gravimetric and Ultrasonic thickness meter,ensure the high quality,save 2-5% raw materials
7. Intelligent PLC controlling system with human-friendly interface make the operation easily and conveniently;
8. Chip-free cutter ensuing flat and smooth cutting surface of pipe.
Loading Container & Delivery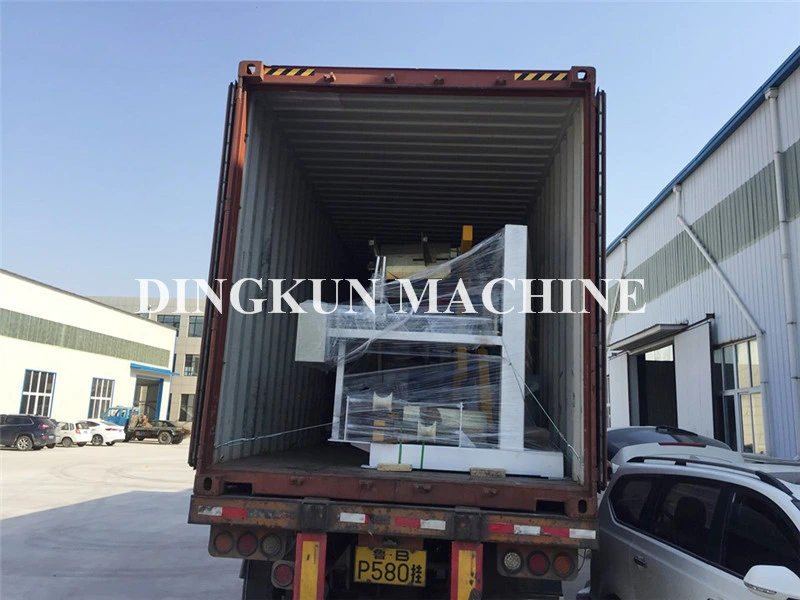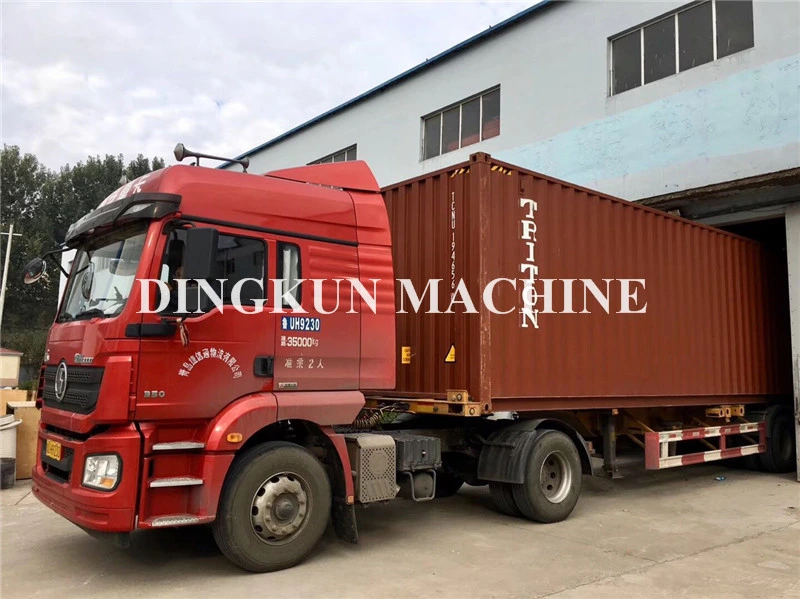 PE PIPES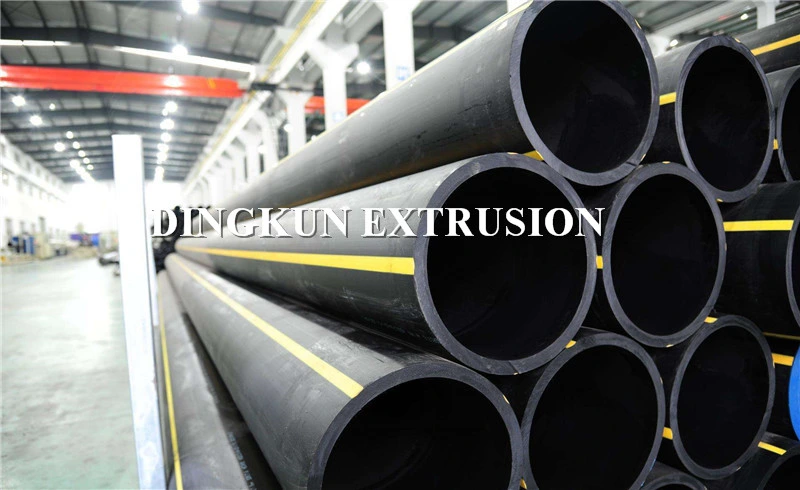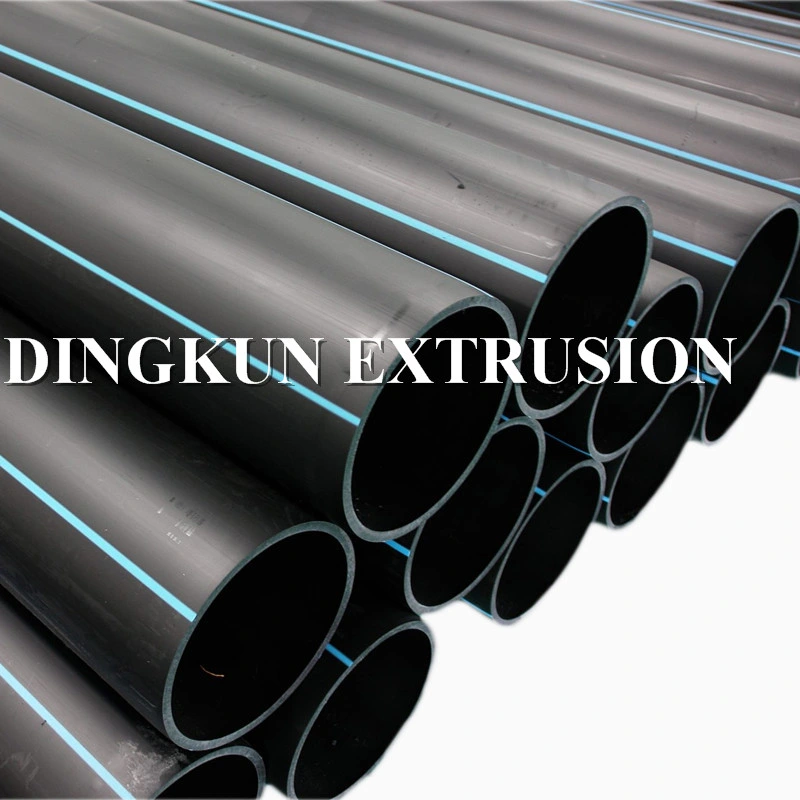 Certification
Certified By
Certificate No.
Business Scope Expiry Dat
ISO 9001:2008
Beijing Hangxie Certification
Center Co., Ltd.,
CNAS

03413Q21640R1M
Design and Production of
Single-Screw Plastic Extruders
and Conical Twin-Screw
Plastic Extruders
CE
EuropeanInspection and
Certification
Company S.A.
CN.CE.0680-10/10
Plastic Extrusion Machinery &
SJ-30, SJ-45, SJ-65, SJ-90,
SJ-120, SJ-150, SJ-180,
SJ-200, SJSZ-51/105,
SJSZ-65/132, SJZS-80/156,
SJSZ-92/188
TUV
TÜV Rheinland
7467484_P+T
Production & Trade Assessment
Main Product Lines Verification Report
TÜV Rheinland
7467487_P+T
Main Product Lines Verification
SGS


SGS-CSTC Standards Technical Services Co.,Ltd
Focus Technology Co., Ltd
QIP-ASR155278
Extrusion Machine, Pipe Machine ,profile Machine, Roof Machine
Execellent Service-Turnkey Project (Pre-Sale and After-Sale Service)

DINGKUN is committed to providing full support for its local and international clients and dealers and will always provide a prompt response to customer enquiries.

1. Provide all the machines for the complete production according to customer's requirements.
2. Provide complete service for factory layout and other information to help customer to build the factory.
3. Provide the raw material to the customer if need.
4. Provide good service for machine installation and training, until the customers can run the machines and make stable production.
5. Provide after-sell service for all the life, except one year quality guarantee,
6. Provide good quality, good price and good service to customer. We are the professional and trustable supplier for turnkey projects. Let us do win-win business together.
Why Choose us
1.We are China Leading Plastic Machine Manufacturer.
2.Alibaba Assessed 7 years Domestic Supplier .
3.Inspected by the Inspection Institution of SGS Certification.
4.100% QC inspection Before Shipmeng.
5.Best Quality & Best Service with Competitive price.
We have SIX this production lines in our showroom for other customer , welcome to visit our factory