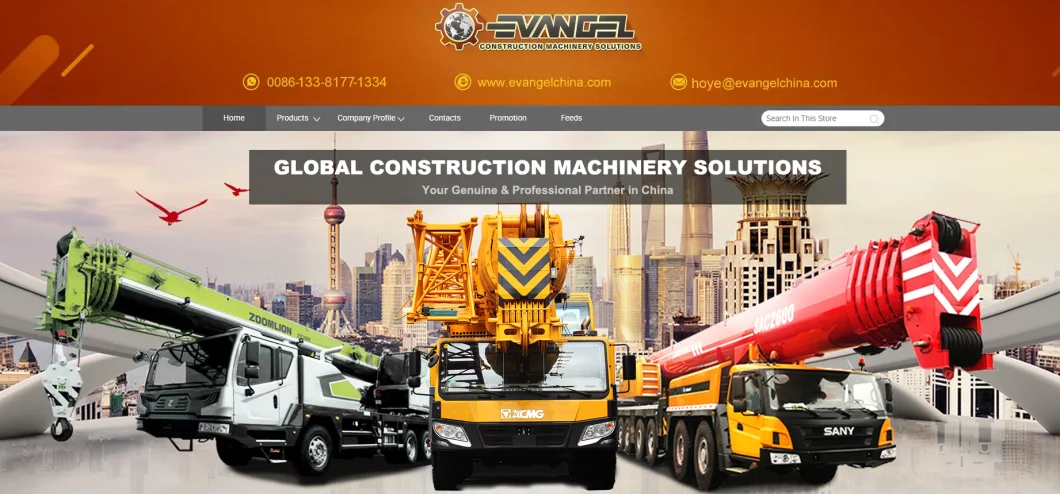 WHEEL LOADER FRONT END LOADER PAYLOADER
5T Front End wheel loader with 3m3 bucket capacity SYL956H

Cummins QSL8.9 Engine: ensures strong power, high efficiency and large displacement.
Multipoint fuel injection allows for immediate throttle response, enhanced fuel efficiency and reduced noise.
Meets Tier 3 emission standard.
Customized DANA Transmission: The DANA axis-shift transmission with electronic control system is used for automatic shifting, maximum efficiency and 10k-hour service life.
F/R handle and fingertips control realize ease of switch between left and right hands.
Solenoid valve + logic control achieve a much smoother shifting and faster response.
High-Pressure Load-Sensitive Hydraulic System: perfect match between speed and power, 10%-15% energy saving.
The 25MPa high-pressure hydraulic system and main valve of large displacement achieve higher breakout and lifting force.
Superior Reliability
Braking System: The full hydraulic electronic control parking brake and dual circuit service brake combine maneuverability and reliability, ensuring a safe operating experience.
Reinforced structural components are adopted for heavy-duty mining applications with a service life reaching 10k hours.
High Fuel Efficiency
The Cummins QSL8.9 engine reduces the fuel consumption of the wheel loader.
The high-pressure load-sensitive hydraulic system and leading hydraulic components distribute the flow on demand, reducing the unnecessary energy loss and saving energy by up to 10%.
Comfortable Operating Experience
Spacious & Quiet Cab
Generous legroom and visibility, 15% larger than other Chinese wheel loaders.
Reduced noise with 78 dB(A) noise level, creating a super comfortable space for the operators.
Ergonomic Design
Large and soft wrist rest with the height easy to adjust.
Enough legroom, comfortable pedal design, and the angle adjustable steering.
| | |
| --- | --- |
| Item | SYL956H |
| Bucket capacity | 3.0M3 |
| Rated load | 5000kg |
| Rated time | 6 secretary |
| Total cycling time | 11secretary |
| Max.drawing force | 145Kn |
| Max.breakout force | 170Kn |
| Articulation angle | 35. |
| Min.turn radius | 6400mm |
| Climb ability | 28. |
| Wheel base | 3300mm |
| Tread | 2200mm |
| Dumping clearance | 3090mm |
| Dumping reach | 1130mm |
| L×W×H | 8110×3000×3508mm |
| Operating weight | 18t |
Clamp type

Min.clamping diameter

φ450/φ800mm

Dumping clearance

3230mm

Dumping reach

1845mm

L×W×H

8114×2800×3460mm

Operating weight

18t





1.How long is the wheel loader warranty time?
Standard One year.
2.which certification of wheel loader do you have ?
CE,ISO900 1,SGS,etc.expect these for different countries,other certificates required by customer is agreed.
3.Is it convenient to see visit your factory and how go there?
Welcome everyone to come to visit our factory, Also high speed train arrive at our city. Make sure your trip date we will arrange it for you.
4.What are our advantages compared with Manufacturer/Factories?
Competitive Price-we work as the leading dealers of various leading China
construction machinery,and are treated with best dealership prices everyyear.From numerous comparison and feedbacks from clients,our price is more competitive than Manufacturer/Factories.
Quick Response-Our team is consisted of a group of diligent and enterprising people,working 24/7 to response client inquires and question all the time.Most problems can be solved within 12 hours.

Our Main Products:
Wheel loader, Min. loader, Excavator, Bulldozer, Backhoe Loader, Skid Steer loader
Concrete pump, Trailer Concrete pump, Concrete mixer truck, Concrete Batching Plant
Tower Crane,Truck Crane, Rough Terrain Crane, Crawler Crane, Truck Mounted Crane,
Forklift, Telescopic Handler, Reach Stacker, Overhead Crane, JIB Crane, Moving cart
Tank Truck Trailer, Tank Truck Trailer, Fuel Tanker Truck, Water truck, Water Tanker
Asphalt Mixing Plant, Asphat Concrete Paver, Road Roller, Motor Grader,
Dump truck, Tractor head, Cargo truck, Semi-Trailer, Special Vehicle
Horizontal Directional Drill, Rotary Drilling Rig, Road Header, Diaphragm Wall Grab
Crushing equipment, Grinding equipment, Feeding&Conveying,Screening&Washing
Tractor, Harvester
Spare Parts and etc.